Tessuti Libby A-line skirt in psychedelic-ethnic fabric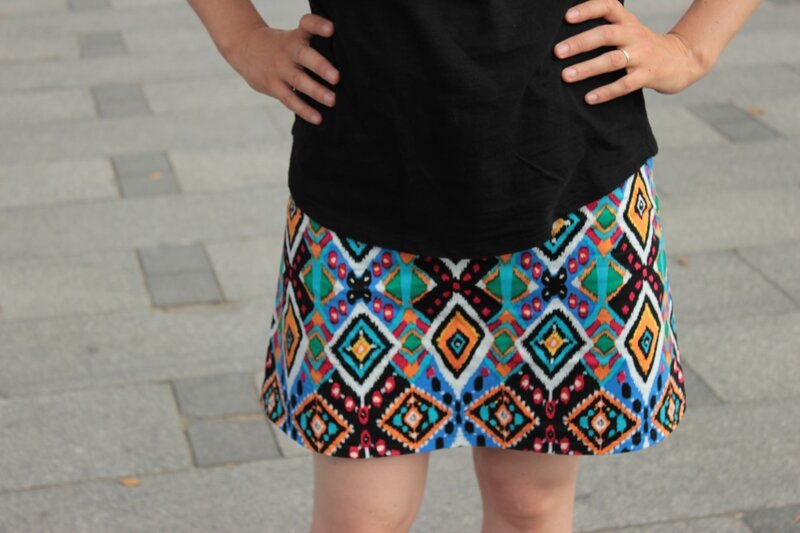 Warning: this post isn't particularly seasonal... it dates back from the sweet time of flip flops and bare legs! Seems ages away now, so I thought I'd better write this one up before it starts to snow.
So these last few months my waistline has remained quite far removed from my usual UK size 8-10("You'll see, a month after giving birth you'll be back to wearing your pre-baby clothes" said one of my colleagues... really!! I actually PUT ON weight after my baby was born! I blame all the lovely people who kept bringing us chocolate :) ), and when summer came, I was starting to get fed up with wearing the same black and shapeless clothes, and only being able to do my fly up half way. It wasn't very glam, or comfortable, or self-esteem enhancing!
Having neither the inclination nor the means to entirely renew the contents of my wardrobe (It was a case of carrying on believing that one day I eventually would manage to shed those extra inches!), I needed a quick, easy and cheap sewing project that would jazz up all that boring black.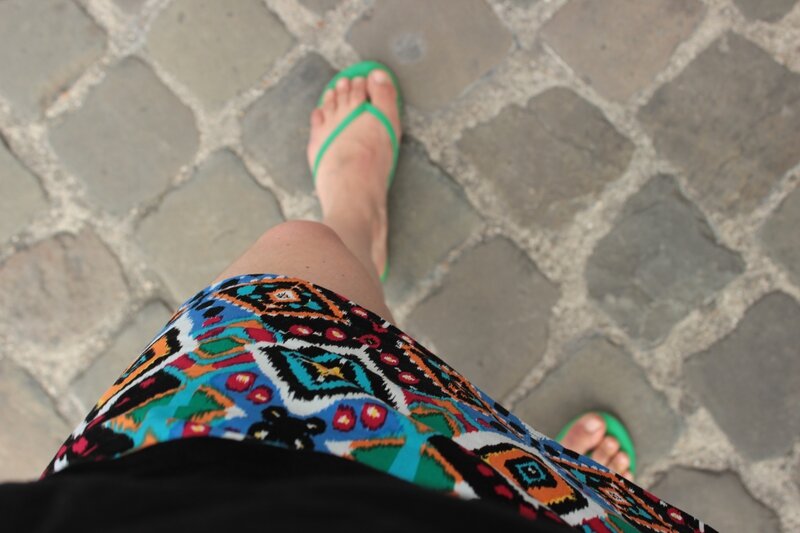 Thank you daddy Monkey for the photos. You will of course recognise the cobbles of the Place de l'Etoile in Paris! And apologies for the display of lily-white legs...
Whilst wandering on the sewing blogosphere I had come across
Boo Dogg's pretty A-line skirt
. It was made with 2/3 of a yard of fabric, and from a free pattern. Perfect!
As for the print, I did hesitate rather a lot. I just couldn't decide if it was the colourful ethnic print I'd always dreamt of, or if it was just completely over the top. But then it was reduced in the sale and good quality material (a nice stretch cotton canvas, easy to sew but friendly on the waistline) so I eventually went for it.
Technical info
:
You need
:
*
Tessuti's free Libby A-line skirt PDF pattern
- short version (the pattern includes a knee length and maxi option, and is also available to purchase as a printed pack or download for free in a copyshop-ready version)
* 65 cm of cotton fabric, with a little bit of weight to it to hold the A shape
* 20 cm invisible zip
* fusible interfacing (I used scraps, you only need very little as it is for the waist facings)
* thread, sewing machine, universal needle, bias for the hem if you wish to use it
Time needed:
1 afternoon (or 2 nap times !)
Cost
: 65 cm of fabric, £6 a metre in the sale => £4, zip around £2, thread and bias £1, so a total of around £7
Eco credential:
PDF pattern printed on recycled paper (OK, it's a bit of a far stretch but that will do for today!)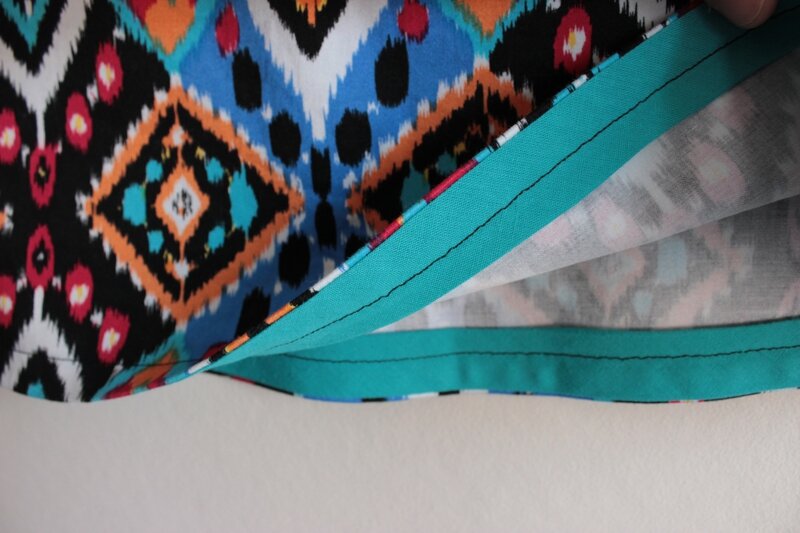 Tessuti's pattern is a joy to sew with: it has 4 pieces (front, back, and 2 waist facings), 2 darts on the back, an invisible side zip, and very comprehensive and detailed explanations, illustrated with photos. Quick and easy, just what the doctor ordered. I cut an australian size 12 according to the measurements table given with the pattern, using my waist measurement. I considered cutting a size 10 at the bottom, and I should have: having put more weight around the waist than the hips it fits lovely at the top but is VERY A-line at the bottom. Nevermind! I also opted to use bias binding for the hem, as the skirt seemed quite short when I tried it on before hemming it, probably because I have to wear the waist quite high. In the end I am happy with the length as it came out. This pattern is perfect, the final garment is easy to wear and comfortable, and I highly recommend it. I am probably going to have to sew another one soon, just because it is soooo satisfying!
Trying to be quick and finish before the little one woke up I didn't read all the instructions properly, hence the double topstitching at the waist, and the not-so-invisible zip... all entirely my fault, and nothing to do with the pattern!
Of course, as soon as the skirt was done, those extra few inches started to disappear and it is now too big! Typical... Anyway, it has motivated me to start sewing for myself again :) However I'm still not sure about that print... Maybe one day I will embrace understatement, which might allow me to wear the stuff I make more than once!
***